Roxana Naramzi solo exhibition
2021.12.12.sun~12.19.sun

Profile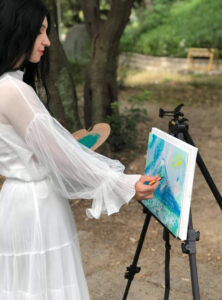 My passion for art started during high school when my art teacher praised my works and advised me to keep on painting.
Favorite art styles: Modern Art, Impressionism, Abstract , ExpressionismAfter graduation, I came in Japan for the first time in 2016 and completed a 6 months internship in the education filed.
I returned in Japan 2 years later and started working as an English Teacher for Young Learners.I started creating my path to Japan in 2010, when I enrolled into "Dimitrie Cantemir" University , Foreign Languages and Literature Department , where I studied for three years English and Japanese , but also Early Education .
During the student years, I had the opportunity to exhibit some of my works at the University's Art and Culture Festival.
Roxana Naramzi
My love for Art and Japanese culture is embodied in my paintings, and I think that in my paintings you can feel the good vibration, emotion and happiness.
My paintings have a wide range of colors that creates a feeling of ardent vitality "with a touch of love and tenderness" .
I choose the colors in the moment I decide to paint, using my intuition and my feelings in that moment.
Vivid colors bring me closer to nature and help me connect with my creative inner self.
I believe that art can save and heal people's hearts and my message for everyone is  :
"Let's make the world more beautiful through Art."
By purchasing my works, you too can have a piece of joy and happiness in the comfort of your own home or your business space.
Participation event
2011 First Mini exhibition at the Shimotsuki Matsuri – Dimitrie Cantemir Christian University , Bucharest, Romania
2021 Participation at the Micro Canvas project in Rokko, Kobe , Japan
2021 First Solo Exhibition in Kobe Kitano, Japan
Works
Exhibition view

https://www.instagram.com/oneroadtoartistry/