RYUTA・T "Short Story"
2022.1.8.sat~1.16.sun 11:00~19:00
Concept
I illustrate in a way that the thoughts and wishes of every girl I create can be expressed.
What kind of story do you imagine when you look at the illustrations?
RYUTA・T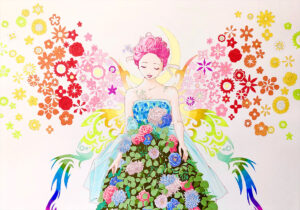 I create manga style illustrations with the theme of my own beauty, the world, everyday life and people's emotions.
These days, I have been enjoying to design shirts and team logos, to portrait and to create welcome boards. In addition, I participate in public exhibition at Kansai residence guild where I belong to.
Born in 1994.
Graduated from Kyoto Seika University
Solo exhibitions / group shows
2015 Participated in a group exhibition "Ko ko ko ten"

in Kyoto

2016 Held a two-person exhibition "Kimi natsu ten" in Kyoto 

2017 Participated in an art event,  Artdive in Osaka 


Participated in a "Manatsu no Design Festa (design festival of the summer)"  in Tokyo
Participated in a group exhibition "ArtrstsPort" in Osaka
Participated in a special exhibition "Osanpo ten" in Kanagawa
2018 Participated in a "Manatsu no Design Festa" in Tokyo


Participated in a public exhibition" Atelier CASO" in Osaka




Participated in a special exhibition "Art Japan in Glasgow" in UK




Participated in a special exhibition "Girls Generation" in Kanagawa

2019 

Participated in "Melmerry Market Vol.11"

in Osaka

2021 

Participated in "ART LIVE KOBE" in Kobe
Awards history
2017 Received an encouragement award at shonen magazine MGP
Works
Exhibition view

https://instagram.com/hightdra0818